✔️ Duna Wellness Hotel Baja ***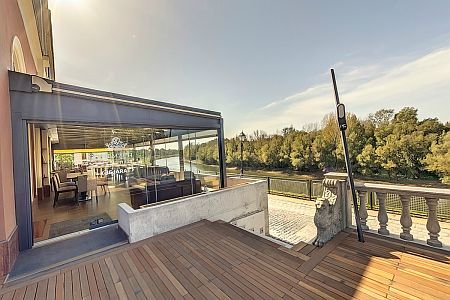 Duna Wellness Hotel *** Baja - Hungary
The town of Baja can be found 150 km far from Budapest, on the bank of the Danube and Sugovica with the forests of Gemenc in the vicinity. The town can be reached on the main road nr. 51 from Budapest.
The 3-star wellness hotel - built in the 1860' and recently reconstructed and refurbished - stands right on the main square of the town of Baja. The windows of the hotel rooms overlook partly the main square, partly the river Sugovica.
The 3-star Duna Wellness Hotel Baja awaits the guests with 9 suites, 2 apartments with kitchen and 36 rooms, equipped with TV and refrigerator. The hotel can accommodate up to 110 guests at the same time.
The spacious, richly furnished suites have a view onto the main square.
The cosy double rooms are furnished in typical Scandinavian style. From the rooms it is possible to admire the panorama of the island surrounded by the river Sugovica.
Our second class restaurant, specialized in typical dishes of the region Bacska, can seat up to 160 people. The restaurant is a popular venue for receptions, weddings and other family events. In addition the adjoining terrace, with nostalgic atmosphere, overlooking the main square, can accommodate a further 100 guests.
In July 2003 the restaurant was enlarged to create a drink bar, offering various drinks, coffee, cocktails, biers and special drinks.
On the first floor of the hotel can be found the air conditioned function room that is ideal for smaller conferences, refresher courses and press conferences for up to 50 delegates.
The hotel's brand new conference room offers modern technical equipment that meets every expectation.
In the WELLNESS CENTRE of the hotel (300 m2) the following services can be available:
Fun pool (8,5 x 4 metres)
Finnish sauna
Infra cabin
Steam bath
Fitness room
Solarium
Massage
Duna Wellness Hotel Baja - Pool-bar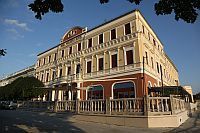 ✔️ Nyugdíjas akciós wellness Baján a Duna Wellness Hotelben (min. 2 night)

2023.09.01 - 2023.12.20
Nyugdíjas csomag Baján a Duna Wellness Hotelben (min. 2 éj) 18.500 Ft / fő / éj ártól hétköznap / félpanzió / üdvözlő ital / Átrium Wellness használata / 30 perc masszázs / ingyenes wifi /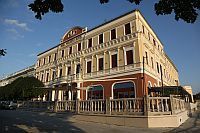 ✔️ Wellness hétköznapok a Duna Wellness Hotelben Baján (min. 2 night)

2023.09.01 - 2023.12.20
Wellness hétköznapok a Duna Wellness Hotelben Baján (min. 2 éj) 17.000 Ft / fő / éj ártól / félpanziós ellátás / wellness részleg használata / ingyenes WiFi / ingyenes parkolás /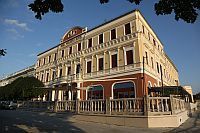 ✔️ Duna parti kikapcsolódás Baján (min. 2 night)

2023.09.01 - 2023.12.20
Duna parti kikapcsolódás Baján (min. 2 éj) 17.750 Ft / fő / éj ártól / üdvözlő ital / félpanzió / Átrium Wellness korlátlan használata / városnéző kisvonatozás / ingyenes WiFi / ingyenes parkolás /