✔️ Hotel Lidó Siófok ***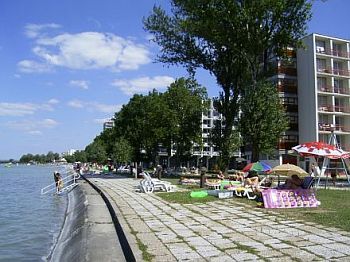 Hotel Lido Siofok *** - Hotel Lido Lake Balaton - Siófok
Our Hotel
Hotel Lido Siofok *** is located in the most beautiful promenade of Siofok, directly on the shore of Lake Balaton.
Our hotel ensures both the active and familiar relaxation for the guests during the seasonal opening.
The hotel complex is easily accessible by coach, train and ship.
If you're coming by car on the M7 motorway, take the Siófok-Kelet exit (98 km from Budapest), then during a 10 minutes drive please just follow the hotel signs along the way.
Hotel Lido rooms:
Each of the 396 rooms of the Hotel Lido are equipped with panoramic balconies, showers, mini-fridge and satellite TV's. Suits, apartments and connected rooms guarantee our guests' comfort.
We pay attention to non-smoking guests, we ensure separated rooms and floors for them.
Siofok Hotel Lido gastronomy:
In our hotels breakfast rooms, drink bars, grill terrace and a restaurant in Hotel Lido provide a special comfort for our guests.
In the mornings we serve your breakfast in the form of buffet of a wide range of choice. All of our guest can take their choice according to their taste.
The restaurant in Hotel Lido offers both the national and international dishes for our guests.
We ensure the opportunity of banquetts, weddings and parties.
Hotel services - Hotel Lido Siofok:
Sport facilities:
For the active holiday we offer bowling, billiard, mini golf, playground and bicycle hire. In the city there you can find a football court.
The private beach and the outdoor swimming pool with sunbathing terrace give you an unforgettable holiday.
For the recreation you can resort the sauna and the massage in our hotel.
Other services:
In the Hotel Lido Siófok *** souvenir shops, safe and ATM bank machine are available.
In our Hotel we offer Internet and WiFi systems connections.
We offer closed parking lot, for charge, to our guest during the holiday.
Other Hotels in Siófok: Siófoki wellness hotelek