✔️ Hotel Ibis Budapest Centrum ***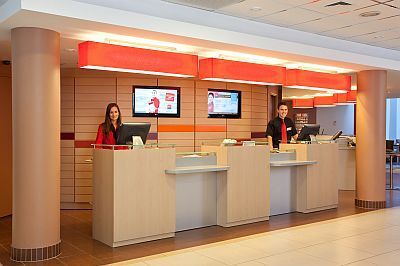 Ibis Budapest Centrum *** Hotel Ibis Budapest
Location
Hotel ibis Budapest Centrum, operated since 1998, can be found on the Pest side of Budapest, in the immediate vicinity of the National Museum, at Kalvin square, just 5 minutes walk from the famous shopping area "Váci utca", in the business and cultural centre of the city. Most important sights are located within walking distance.
Hotel Ibis Budapest Centrum Access:
By train: From the Southern (Déli) and Eastern (Keleti) Railway Stations take metro with changing line 2 (red) to line 3 (blue) at Deák tér for Kálvin tér. From the Western (Nyugati) Station by metro line 3 (blue) to Kálvin tér.
By car: From Vienna motorway M1, Szabadság-híd (Szabadság Bridge), Vámház körút (Vámház Boulevard). Ráday utca (Ráday Street) is one-way from Kálvin-tér. In-house garage for 29 cars.
By public transport: By tram No. 47 or 49, by metro line 3 (blue) or by bus No. 15 as far as Kálvin tér.
Ibis Budapest Centrum rooms:
The hotel has 126 sound-proofing, air-conditioning rooms. All of the rooms are non-smoking and 4 special rooms are equipped for handicapped guests. Each room has shower/WC, colour TV (with Hungarian, German, English and French channels+CNN), direct dial telephone, PC-connection and Pay-TV. All rooms are equipped with smoke-detectors. Electronic key card system.

The hotel is 100% non-smoking, smoking is forbidden on the whole territory of the hotel, including the common areas, the terraces and the rooms.
Hotel Ibis Budapest Centrum gastronomy:
The hotel is famous for its rich buffet breakfast between 6.30-10.00 a.m, at weekends 6.30-11.00 a.m. "Early bird" breakfast from 4.00 a.m.
Winter garden drink bar: offers cocktails and sandwiches in cosy atmosphere, open from 10.00 a.m. until 12.00 p.m.
Cosy patio on the first floor.
Ibis Centrum Budapest Meeting facilities:
There is a small, air-conditioned meeting room on the tenth floor for max. 12 persons. Excellent for language courses or workshops. Technical equipment: flipchart, overhead projector and telephone.
Other Ibis hotels in Budapest operated by the management: