✔️ Hotel Platán Székesfehérvár ***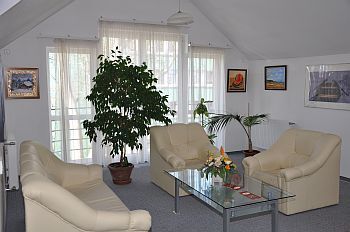 Hotel Platan*** Szekesfehervar
Szekesfehervar, the town of kings is located in the heart of Fejér county, 60 km from Budapest, 50 km from Lake Balaton and 15 km from Lake Velence. Szekesfehervar is one of the oldest towns in Hungary, coronation and burial place of the kings of Hungary. The historic inner town, the buildings built in Baroque and Classicist style, the monuments and cultural values offer a pleasant and substantial pastime for the visitors.
Hotel Platan, the newest 3-star hotel in Szekesfehervar is located in 5 minutes walking distance from the historical downtown, 200 metres from the main street coming from the M7 motorway, in quiet, green surroundings. Hotel Platan is a perfect accommodation for both tourists and businessmen.
Hotel Platan offers 28 rooms on 2 floors: 1 single room, 11 twin rooms, 15 double rooms and 1 suite. All the 28 guest rooms are equipped with air-conditioner, central heating and also with shower or bath. You can find minibar, computer connection, direct dial telephone and colour TV with satellite channels in the rooms too. There are rooms for non smokers and disabled guests. The speciality of the suite is a jacuzzi for 2 persons.
Hotel Platan has a sauna.
In our air conditioned, attractive restaurant we serve the specialities of the Hungarian and the international cuisine, as well as fine Hungarian wines, not only for hotel guests, but for people from the neighbourhood too.
The function rooms for up to 100 people and the terraced backyard provide an ideal location for a successful conference or a festive event.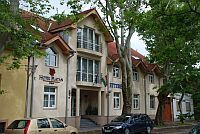 ✔️ Pihentető napok a Hotel Platánban Székesfehérváron (min. 2 night)

2023.01.08 - 2023.12.20
Pihentető napok a Hotel Platánban Székesfehérváron (min. 2 éj) 15.500 Ft / fő / éj ártól / üdvözlőital / bőséges reggeli / belépő az Árpád Fürdőbe / városnéző útikalauz / ingyenes wifi / ingyenes parkolás /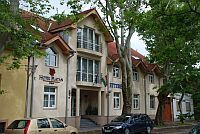 ✔️ Nyugdíjas akció reggelivel Székesfehérváron (min. 3 night)

2023.01.08 - 2023.12.20
Nyugdíjas akció reggelivel Székesfehérváron (min. 3 éj) 11.670 Ft / fő / éj ártól / reggeli / kedvezményes belépővásárlási lehetőség az Árpád fürdőbe / ingyenes wifi / ingyenes parkolás /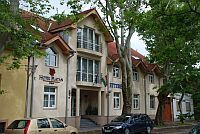 ✔️ Barangolás a Bory-várban Székesfehérváron (min. 2 night)

2023.01.08 - 2023.12.20
Barangolás a Bory-várban Székesfehérváron (min. 2 éj) 13.250 Ft / fő / éj ártól / bőséges reggeli / belépő a Bory-várba / kedvezmény az Árpád Fürdő egész napos belépőjegyének árából / ingyenes wifi / ingyenes parkolás /