✔️ Hotel Gellért Budapest ****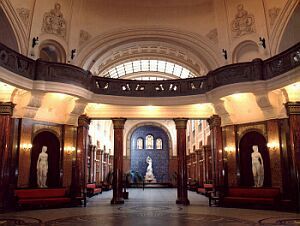 Hotel Gellert **** Budapest - Thermal Spa Hotel - Hotel Gellert Budapest
Danubius Hotel Gellert**** is one of the most traditional hotels in Hungary. The hotel was erected between 1916 and 1918 until opening to the public of that year. The outside wave pool was added in 1927 and the sparkling pool was constructed in 1934. Immediately after opening the Spa became well-known throughout the world and is the most popular in Budapest until today amongst foreign visitors.
Danubius Hotel Gellert is situated in the heart of Budapest at the foot of the Gellert Hill on the Buda side of the city with wonderful view to the Danube and the hill. It's an ideal place for both business and leisure travellers.
It's on the banks of the river a good ten minutes walk from the city centre, business areas and the nearest subway station, 6 kms from the Keleti railway station, 18 kms from Budapest-Ferihegy International Airport.
Danubius Hotel Gellert offers various types of luxurious rooms, from single and double rooms to elegant suites. The hotel has 234 rooms: 89 single rooms with bath or shower, 94 standard double rooms with bath (before reconstruction, with old-time furniture), 38 superior double rooms with bath (new, refurbished) and 13 suites with one bedroom & saloon and bath.
Every room has private bath or shower, minibar, direct dial phone, colour TV, in-house movie, CNN News, radio. Connecting rooms, 49 non-smoking rooms are available.
Child friendly services guarantee the resting without troubles.
Hotel Gellert gastronomy:
Danubius Hotel Gellert offers a variety of gastronomic highlights to connoisseurs. The Duna Restaurant (member of Chaine des Rotisseurs) on the gallery level of the hotel with a view over the river and the city is waiting for the guests with internationally recognised gourmet cuisine. In the summertime the terrace is the perfect place to relaxation. The restaurant entertains the guests with live music and several other programmes.
The Café with home made confectionary and freshly brewed tee or coffee offers a perfect relax after a trip or a business talk.
In the Brasserie first class Hungarian and International cuisine, friendly service and a large selection of beer are awaiting for the guests.
The Lobby Bar located in the entrance hall is an important meeting point. You can enjoy the evenings with live music and cocktails. Coffee, snacks and drinks are served.
Hotel Gellert Budapest local sights:
Buda Castle, Gellert Hill with Citadel, Rudas Baths, Museum of Contemporary Arts, Market Hall, Budapest University of Economics
Other hotels in Budapest operated by the management: