✔️ Hotel Club Tihany ****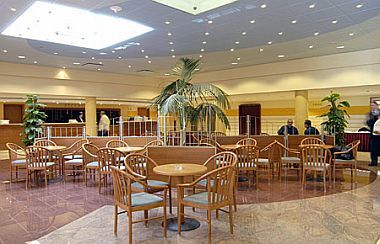 Hotel Club Tihany**** TIHANY - Lake Balaton
The four-star Club Tihany is situated on the top of the Tihany-peninsula that was declarated to be a national park in 1952. The Hotel Club Tihany and holiday centre complex, lying on 13 hectares, offers everything that guarantees a great holiday.
Hotel Club Tihany is a modern 4-star hotel offering 330 rooms and apartments with fully equipped bathrooms.
SUPERIOR double room (78): with air conditioning, having a beautiful view on Lake Balaton from the balcony.
STANDARD double room (78): with panoramic view on the hill, expandable to a triple room with an extra bed.
STANDARD double room (144): without the possibility for extra bed.
APARTMENT (24): with spacious living room, 6 of them specially equipped for handicapped persons.
Chip key-cards ensure the security and confort: by consumations on your room bill and taking-up services.
Minibars are available in all rooms with a wide variety of cold drinks.
You can enjoy a unique hotel TV system with 16 programs in German, English, French, Spanish and Italian in every genre, a multi language channel provides information about the services of the Club, alarm clock, account viewing, messaging. etc.
The Pay TV movies can be watched in several languages for a fee.
Inside and outside telephone calls, attaching your personal computer provides access to the Internet.
Gastronomy:
"OLD CAPTAIN' restaurant
Buffet breakfast: 07:00 -10:00
Buffet dinner: 18:00 - 21:30
"OLD CAPTAIN" wintergarden
Buffet breakfast: 07:00 -10:00
Buffet dinner: 18:00 - 21:30
CLUB CAFÉ
Open: 09:00 - 23:00
Excellent cocktails, drinks, coffee specialities, cakes, sandwiches
"BEACH GRILL' restaurant
Open: 17 May - 14 September, daily 11:00 - 18:00
Excellent foods, drinks, ice coups
POOL DRINK
Open: 17 May - 14 September, daily 10:00 - 21:00
Excellent drinks, ice coups
"BUTTERFLY" NIGHT CLUB
Open: 21:00 - 03:00, Monday closed
Excellent cocktails, drinks, Disco music
From this year on, the children and teenagers will be getting more attention than ever before! Even more animators and other varying programmes assure the children and teenagers have an experienceful vacation in the high season.
We divided the youth, according to age, into three groups:
Balaton Dwarfs - Mini Club:
The Mini Club awaits children of the age between 3-6 in a new location, with an animator for children. Adults, of course, are also welcome!
Hotel Club Tihany - Balaton Pirates - Midi Club
Recommended for children between the age of 7-12, where they can find occupations they enjoy.Two of our well-trained animators for children see to it that this summer be one they never forget.Occupations in groups: -painting, drawing, glueing, folding, boardgames, games for developing logic and talent, playing with clay, reading, animation films...etc. Outings, going to the beach, Midi-disco, practicing the Club dance, preparing for the stage performance of the evening. Ponyrides and pleasure drives: we recommend this adventurous outing of the afternoon to the children.
Maxi Club: Programs for the young
Lots of interesting programmes await the teenagers also: disco, hiking, volley-ball, sport programmes, and the Teens can choose the amusements they most like, with the guidance of an animator.
Club Tihany Program-Office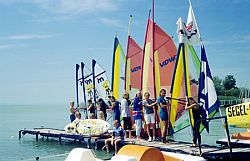 We are glad to welcome you in our hotel, on the island of meriness. In the beautiful surroundings there are many kinds of sights so besides the bathing we are waiting for you with many ways of active recreation.
Our brochure contains full-, half-day and exclusive excursions, programs for children organized by the Program Office. You can participate on these tours traveling with the Club's air-conditioned coach and benefiting the high standard program arrangements and our qualified tour-guides.
You can book these tours and excursions in the program-bureau and get further information about all other tours described in detail in this brochure and in other available publications.
Wellness, Beauty, Recreation
Wellness: lymph drainage, foot reflex-zone massage, Thai-, Japanese-, Chinese and Swedish massage.
Beauty: face treatments, hairdresser, manicure, pedicure.
Recreation: aroma bath, Cleopatra bath, sea-salt bath, alga bath, hidroxeur tube bath, ritex, mud bath, bioptron lamp treatment
Cure Center:
Our SPA Center has been built upon the own medicinal water surface in 1997. The temperature of the medicinal water is 30-32°C, with high level of sodium hydrogen carbonate, calcium, fluorine and trace elements content. Our well-qualifinied doctors, assistants, massuers and modern equipments help our hotel guests to recover and recreate.
Physiotherapy: healing massage, segment and connective tissue massage, therepeutic gymnastics
Hydrotherapy: under water massage, weight bath, hidroxeur tube bath, carbonated sparkling bath, 4-chambered galvanic bath, alga-bath, relax bath with sea salt , mud-bath
Electrotherapy: combinated electrotreatment, interference, TENS, diadynamic, selective nerve stimulation, iontophoresis, short wawe, sonodynator, ultrasonic treatment, ECG
Packs: parafango, ritex
Additional therapy: laser treatment, infrared treatment, Bioptron lamp treatment, injection.
The above treatments can be also required in health cure packages!