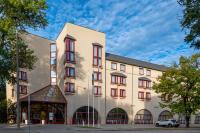 Hotel Castrum Székesfehérvár, Hungary
8000 Székesfehérvár, Ady Endre út 19-21. 
Phone: 00-36-1-2279614
Hotel video
The 4-star Castrum Hotel Szekesfehervar is situated on the edge of the historical old city, close to the cultural and historical sights of Szekesfehervar. Castrum Hotel Szekesfehervar offers 96 air-conditioned rooms, all equipped according to the Castrum standards. The Royal Restaurant of the hotel offers Hungarian and international meals. Indoor parking lots in the garage and a well-equipped fitness room are also available for the guests.