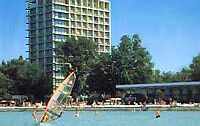 Hotel Europa Balaton Hungary
8600 Siófok, Petőfi sétány 15.
Phone: 00-36-1-2279614
Hotel video
Hotel Europa is located in the most beautiful promenade of Siofok, directly on the shore of Lake Balaton. Our hotel ensures both the active and familiar relaxation for the guests during the seasonal opening. The hotel complex is easily accessible by coach, train and ship. Beyond the usual hotel services the hotel offers whole day amusement, sport facilities and programs for the children.